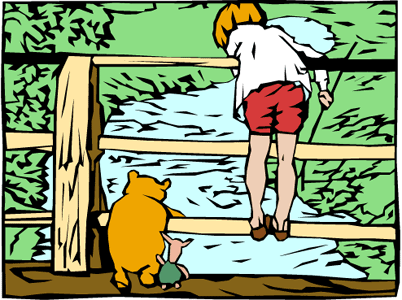 Poohsticks
"I think we all ought to play Poohsticks," So they did. And Eeyore, who had never played it before, won more times than anybody else; and Roo fell in twice, the first time by accident and the second time on purpose, because he suddenly saw Kanga coming from the Forest, and he knew he'd have to go to bed anyhow. So Rabbit said he'd go with them; and Tigger and Eeyore went off together Because Eeyore wanted to tell Tigger How to Win at Poohsticks.
(from "The House at Pooh Corner")
---
Gift Giving
Christopher Robin would like to buy each of his friends a present. Help him decide which present goes to who...
(answers at the bottom)
---

[ Home | Interact | Learn | Stephanie | Etceteras | Guestbook ]

---
View the full disclaimer.
© Stephanie Segall, 1997-2003
Updated 06.22.01


answers (written backwards):
Eeyore: seltsiT ylkcirP emoS
Kanga: norpA nA
Owl: kooB giB A
Piglet: snrocyaH fo teksaB A
Pooh: toP ynnuH ykcitS A
Rabbit: ekaR weN A
Roo: syoT xobdnaS
Tigger: enilopmarT A