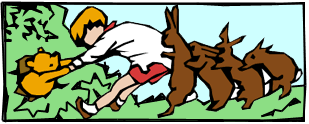 A Wedged Bear in Great Tightness
So Christopher Robin took hold of Pooh's front paws and Rabbit took hold of Christopher Robin, and all of Rabbit's friends and relations took hold of Rabbit, and they pulled together...
And for a long time Pooh only said "Ow!"
And "Oh!"
And then, all of a sudden, he said "Pop!" just as if a cork were coming out of a bottle.
(from "Winnie-the-Pooh")
---
Rabbit's Flower Garden
Rabbit knows that bees are great for flowers. They help keep his garden beautiful. You can help Rabbit by counting how many B's there are in his flowers.




| | |
| --- | --- |
| BLUE PANSEYS | BABY'S BREATH |
| RUBY ROSES | BUDDING BLUEBELLS |
| BIG SUNFLOWERS | BROWN-EYED SUSANS |
| VIBRANT DAFFODILS | VIOLET BLOSSOMS |
(answers at the bottom)
---

[ Home | Interact | Learn | Stephanie | EtceterA> | Guestbook ]

---
View the full disclaimer.
© Stephanie Segall, 1997-2003
Updated 06.22.01


answer: 12
| | |
| --- | --- |
| BLUE PANSEYS | BABY'S BREATH |
| RUBY ROSES | BUDDING BLUEBELLS |
| BIG SUNFLOWERS | BROWN-EYED SUSANS |
| VIBRANT DAFFODILS | VIOLET BLOSSOMS |