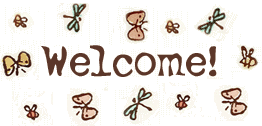 Web Smackeral Set: Flutter-bys & Dragonflies
This web smackerels set features the characters often overlooked in Milne's books: the adorable insects that decorate every page.

r u l e s

This set is linkware. This means that it is free to use as long as you include a link back with this graphic. Please link it to: http://www.half-asleep.com/pooh/

Personal/non-profit pages only.

All original graphics on this site are copyright Stephanie Segall, and may not be included as a part of a collection without my permission. All classic Pooh images are copyright their individual owners.
Tile page | Border page

d o w n l o a d

To download everything at once, click on the icon for your computer type. PC users will get a .zip file & Mac users will get a .sit.



f o n t
if you would like to add your own text to a blank button, the font i used for this set is called Typwriter Oldstyle for PC. I translated it for my Mac using TT-Converter.

c o l o r s
The background color that matches this set is F9F6EB. the gifs are not entirely transparent, so the will only match the set backgrounds and F9F6EB.
The text color is 241F12. (RGB: 86 31 18)